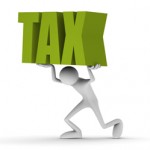 The Coming US "Tax Overhaul" Has a Different Goal In Mind than the Public Thinks!
RESEARCH STUDY: THE EFFECT OF RISING INCOME INEQUALITY ON TAXATION AND PUBLIC EXPENDITURES: EVIDENCE FROM U.S. MUNICIPALITIES AND SCHOOL DISTRICTS, 1970–2000
INCREASED LOCAL PROPERTY TAXATION IS COMING AS FINANCIAL REPRESSION TRANSFERS DEBT TO RESIDENTIAL OWNERS
Municipal spending is rising alongside Inequality
Because most cities don't have the power to tax income, they usually use property and sales taxes, which tend to hit all residents or fall more heavily on those who are middle class or lower income. As in Scandinavia, people are paying for their own increased services.
The increase in income inequality experienced by the typical city is associated with an $88 increase in expenditures per resident on top of the $900 per resident on local services spent by the typical city each year. The additional $88 of funds are allocated across the board to cover police services, fire protection, road maintenance, education, and more.
READ MORE: Inequality Is Forcing US Towns To Try Scandinavia-Style Taxation — And It's Working 07-13-14 BI
Disclaimer: The views or opinions expressed in this blog post may or may not be representative of the views or opinions of the Financial Repression Authority.