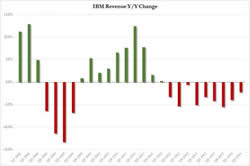 "In 2004 IBM had $13 billion of net debt. Today the figure stands at just under $37 billion. And why not. IBM's average weighted cost of debt last year was just shy of 1%.Thank you, monetary politburo!"David Stockman – Former Director OMB
"Under a honest free market in the financial sector, America's once greatest technology company would not be functioning as a slush fund for Wall Street gamblers" David Stockman – Former Director OMB
The Fed's Financial Repression At Work: How Big Blue Was Turned Into A Wall Street Slush Fund 07-18-14 David Stockman
IBM is a poster child for the ill-effects of the Fed's financial repression. In effect, the Fed's zero interest rate policies are telling big companies to issue truckloads of debt and use the proceeds to buyback shares hand-over-fist. That way fast money speculators on Wall Street are appeased by the resulting share price lift, and top executives collect bigger winnings on their stock options.
In its recently completed quarter, IBM again repurchased nearly $4 billion of stock—which amounted to about 93% of its net income for Q2. Likewise, IBM also reported lower sales versus prior year for the ninth quarter in a row READ MORE
Disclaimer: The views or opinions expressed in this blog post may or may not be representative of the views or opinions of the Financial Repression Authority.