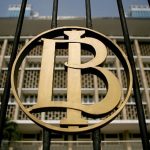 Central Bank of Indonesia Governor:
"We know every country must decide their policy based on domestic circumstances but look, you have to take account of your actions and the impact of your actions to other countries, especially the emerging markets.
There are three global players that impact the future of interest rates and exchange rates. Now it's only the U.S. .. That's why the U.S. and the dollar are king. But next year if Europe starts normalizing, Japan starts normalizing, then I don't think the U.S. or the dollar will be the only king."
Disclaimer: The views or opinions expressed in this blog post may or may not be representative of the views or opinions of the Financial Repression Authority.