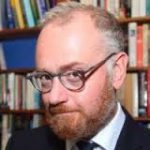 "The central banks try to manipulate markets to deliver growth, that's effectively what they do by manipulating the price of money. If it doesn't work, then what? Well, it's pretty straightforward. Well, people the demand the politicians do something, people demand political action. But political action for those people who invest in financial markets means in some way reducing the par of financial markets, reducing the par of price. And yeah, I've speak to a lot of people about this. People fear inflation, they fear deflation. I fear something much bigger than that, that the political reaction to this is effectively to go through one of those periods again, what we'll called 'dark ages', where we basically- the politicians can make it and then they run the financial system, or they begin to get directly involved with the allocation of resources and capital and credit and we go back into that, let's call it the 1950s, 1960s, certainly a in a European context, that type of world is a world that the population demands because they look at central banks and say 'well you haven't been able to do this using so-called market forces, so let us use non-market forces.' So, we're really dealing with something very existential, here, that this will be a shock to the face and the ability of the market to deliver, not only in the ability of central bankers, but in the ability of the market to deliver in a decided move towards intervention in markets."
Erik Townsend Interviews Russell Napier:

Disclaimer: The views or opinions expressed in this blog post may or may not be representative of the views or opinions of the Financial Repression Authority.