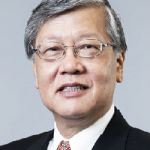 Special Guest: Andrew Sheng – Former Head of the Hong Kong SEC
ANDREW SHENG , Distinguished Fellow of the Fung Global Institute and a member of the UNEP Advisory Council on Sustainable Finance, is a former chairman of the Hong Kong Securities and Futures Commission, and is currently an adjunct professor at Tsinghua University in Beijing. His latest book is From Asian to Global Financial Crisis.
Andrew Sheng has spent his career in Asia as a central banker and regulator. He summarizes the current global situation as developed economies simply "kicking the can down the road" to avoid the painful and inevitable structural changes that must lie ahead. "There are no free lunches. Avoidance will only make it more expenses and painful later on!" He quotes former Treasury Secretary Larry Summers on this subject; "do you want your teeth pulled out slowly or very quickly?" Sheng concludes "we are going to have a long tooth ache for a very long time to come!"
FINANCIAL REPRESSION
Sheng describes what he refers to as the "Financial Repression Tax":
"Governments (via regulated banks) will pay depositors very low rates, sometimes below inflation rates in order to fund the budget. The result is what is known as a Financial Repression Tax. This represses the financial system. The biggest payers of the Financial Repression Tax become the pension funds, insurance companies and long term savers."
"Besides the government tax, this effectively also allows the rich & privileged to borrow from the poor! Rich countries are borrowing from the poorer countries"
AVOIDING DAY OF INEVITABILITY OF STRUCTURAL ADJUSTMENT
"As long as central bankers are printing we have a 'paper economy' not a real economy. That is where Financial Repression really harms the system"
SOURCE OF GROWING GLOBAL INEQUALITY
Sheng feels strongly that the inevitable outcome of broad based Financial Repression is and has become global inequality. "Quantitative Easing and the 'leveraged play' around the world is worsening inequality".
THE MARKET IS NOW POLICY DRIVEN
Sheng also believes the free market is presently not allowed to operate. Markets are highly distorted from trillions of dollars of 'pumping'.
"People equate finance with debt. Debt is about risk shifting and not about risk sharing! We presently have things backward. If you think of the real economy as the horse, and finance as the cart; what we have today is the cart in front of the horse!"
CONSEQUENCES OF FINANCIAL REPRESSION POLICIES
Andrew Sheng believes we are headed for another crisis. Common sense could help fix the problems but he feels common sense appears not to be so common, especially when politics in involved.
This interview touches a broad range of the fallout from Financial Repression; from how the US Fed is now locked into low interest rates, the 'hot money' US Dollar Carry Trade and why lenders are more concerned about balance sheet repair than investment.
Disclaimer: The views or opinions expressed in this blog post may or may not be representative of the views or opinions of the Financial Repression Authority.