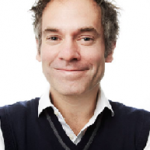 Special Guest: Dominic Frisby 
Now 45 years old and having been a comedian since his mid twenties, Dominic Frisby got interested in Economics and Finance in 2005 prior to the Financial Crisis. He subsequently became a devout Gold Bug and follower of Austrian Economics and Sound Money when he decided he needed to manage his money himself.
He concluded that:
"Money should be independent. The role of money is to be a medium of exchange, a store of wealth and a unit of account. But instead Money has become a political tool. The mixing of money and politics is very dangerous!"
Dominic feels strongly that many of our basic daily terminologies such as inflation, capitalism and socialism have become corrupted in their meaning and usage. The same is true for "money". "All of this has distorted people's behavior in an almost corrupt way" which he describes as only a comedian can.
FINANCIAL REPRESSION
Dominic Frisby defines Financial Repression as:
"The Government manipulation of money in order to achieve a specific goal. The current goal is to bailout the financial system for the excesses it created in the lead up to the 2008 Financial Crisis and also to bailout themselves."
"Governments have spend way more than they have earned and now have debt that is unpayable and the way they are paying it back is through manipulation, which other people call Financial Repression."
WHAT THE FUTURE HOLDS
"This will go on for my life time and my children's life time …. until something else happens". Frisby says "don't shot the messenger but our leaders have gotten away with it so far and history shows leaders have always played tricks with money and debt". "Financial Repression will always exist as long as we have leaders, just like sinning will always exist – you just have to accept it!"
SOCIAL GOVERNMENT ENTITLEMENTS
The government according to Dominic Frisby, who has spent his life within the UK's social entitlement program, should have nothing to do with Healthcare, Education and Welfare. "All of this doesn't need to be as expensive as it is!"
"We need less state, more market and more … 'people'!"
CONCLUSION
"We need to question everything, including the questioners questions and their dogma"
Disclaimer: The views or opinions expressed in this blog post may or may not be representative of the views or opinions of the Financial Repression Authority.