Why Is Fed Considering Paying Banks Not To Lend To Main Street? 07-18-14 IBD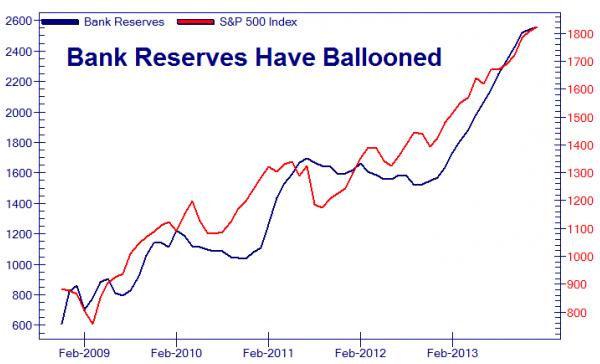 The Federal Reserve created a monster $4.3 trillion balance sheet, up by $3 trillion from 2008, through quantitative easing. QE ends this fall. Now the Fed is trying to figure out what to do with this monster. Their thinking seems to be that they can maintain control over it by paying banks more money to not make loans.
The implication, in the July 9 FOMC minutes, is that they will likely increase the interest paid on excess reserves when it comes time for the Fed to raise interest rates. Their thinking seems to be that this mechanism will serve an equivalent function of what the federal funds rate did before QE.
The current interest rate on bank excess reserves is 0.25%. But if the Fed needs to eventually raise that to 2% or above to control inflation expectations, it becomes politically unpopular.
Fed Excess Reserve Payments Could Yield Banks More than Equity Yields!
Disclaimer: The views or opinions expressed in this blog post may or may not be representative of the views or opinions of the Financial Repression Authority.