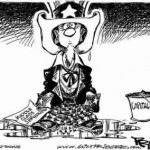 FINANCIAL REPRESSION
STRIPS SAVERS, PENSIONERS,
PRUDENTIAL INVESTING &
REAL DISPOSABLE INCOME
TO FINANCE GOVERNMENT SPENDING
Ten year constant maturity Treasury yields (blue), ten year constant maturity yields minus ten year (median) expected inflation (red +), and ten year constant maturity TIPS (black). NBER defined recession dates shaded gray. Source: Federal Reserve via FRED, Survey of Professional Forecasters, and author's calculations.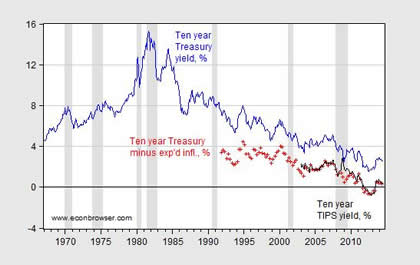 Disclaimer: The views or opinions expressed in this blog post may or may not be representative of the views or opinions of the Financial Repression Authority.