Regulators Ready Money-Fund Rules 07-10-14 WSJ
FINANCIAL REPRESSION REGULATIONS WILL PREVENT YOU FROM EXITING YOUR MONEY MARKETS (CASH) AT TIME OF TURMOIL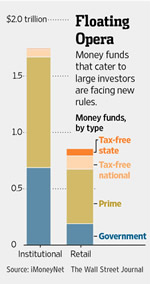 SEC Vote Could Come as Early as This Month
Money funds are cash-like instruments used by millions of individuals, businesses and municipalities to safely park cash.

The plan would allow money funds to temporarily block investors from withdrawing their money in times of stress, or require a fee to redeem shares.

Other regulators, including members of the Financial Stability Oversight Council, have said such redemption restrictions could spur, rather than curb, investor stampedes.
Yellen called for what she termed:
"A more robust macroprudential approach."

In fact she used that word macroprudential no fewer than29 times. For those not fluent in Fedspeak, what she meant is that we can deal with financial instability through increased regulation procedures
Monetary Policy and Financial Stability – Remarks by Janet L. Yellen Chair Board of Governors of the Federal Reserve System
The 2014 Michel Camdessus Central Banking Lecture International Monetary Fund Washington, D.C.
July 2nd, 2014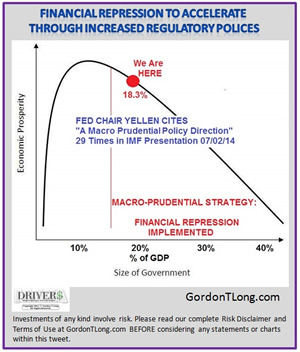 In closing, the policy approach to promoting financial stability has changed dramatically in the wake of the global financial crisis. We have made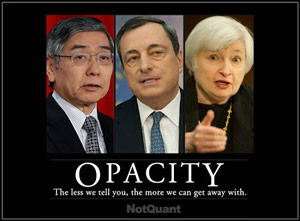 considerable progress in implementing a macroprudential approach in the United States, and these changes have also had a significant effect on our monetary policy discussions. An important contributor to the progress made in the United States has been the lessons we learned from the experience gained by central banks and regulatory authorities all around the world. The IMF plays an important role in this evolving process as a forum for representatives from the world's economies and as an institution charged with promoting financial and economic stability globally. I expect to both contribute to and learn from ongoing discussions on these issues.
*YELLEN: `WE HAVE MUCH TO LEARN' IN MACROPRUDENTIAL OVERSIGHT

*YELLEN: MACROPRUDENTIAL RULES SHOULD BE MAIN STABILITY DEFENSE

*YELLEN: STABILITY BEST PROMOTED BY MACROPRUDENTIAL OVERSIGHT
Disclaimer: The views or opinions expressed in this blog post may or may not be representative of the views or opinions of the Financial Repression Authority.