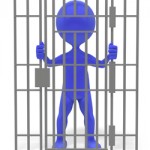 SEC Approves Tighter Money Fund Rules – Plan Allows Money Funds to Temporarily Block Investors from Withdrawing Money in Times of StressWSJ
SEC Votes Through Money Market Exit Gates Zero Hedge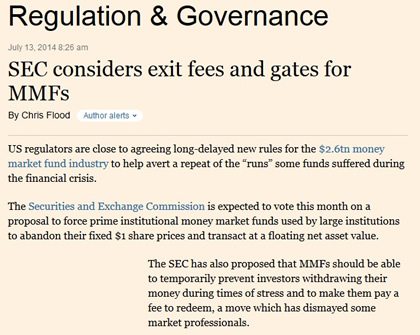 HIDDEN TAX INCENTIVES
In conjunction with Wednesday's release, the U.S. Treasury department is expected to relax certain accounting burdens on the reporting of gains and losses "to ease the transition to a floating share price".
CREDIT RATINGS REMOVED
Separately, the SEC voted unanimously to re-propose a plan, originally floated in 2011, to purge references to credit-rating firms embedded in the SEC's money-fund rule. The change is a requirement of the 2010 Dodd-Frank financial law that requires federal agencies to scrub their rule books of references to credit ratings, forcing them to find new measures to help investors assess creditworthiness.
Disclaimer: The views or opinions expressed in this blog post may or may not be representative of the views or opinions of the Financial Repression Authority.