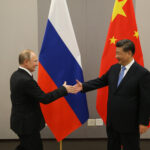 China is taking advantage of cheap Russian oil and coal.
Shunned by the West, Russia is looking to Asia to offload coal and oil at steep discounts.
China's industrial power is being fueled by U.S. adversaries in Russia and Iran, Hudson Institute's Duesterberg notes.
Disclaimer: The views or opinions expressed in this blog post may or may not be representative of the views or opinions of the Financial Repression Authority.