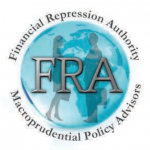 See also this related article – Link Here, based on the data from the China Beige Book:
"A paradigm shift has taken place in how Beijing approaches its economic priorities and management. Many China watchers have missed it because they are relying on a series of misperceptions and flawed forecasts based on China's old growth playbook ..
With the Beijing Olympics in early 2022 and the critical 20th Party Congress following next fall, Beijing will almost certainly find it useful at some point to ease monetary conditions. But these will be political considerations based on a political calendar. For now, stimulus is less urgent, and medium-term growth will be far more subdued, than the Wall Street consensus is expecting. "
Disclaimer: The views or opinions expressed in this blog post may or may not be representative of the views or opinions of the Financial Repression Authority.