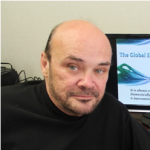 "Now comes Bitcoin. The Judiciary Committee of the United States Senate is currently working on Bill S.1241 that aims to criminalize deliberate concealment of property or the control of a financial account. The bill was submitted in June, and the law would change the definition of 'financial account' and 'financial institution,' and thus also cover digital currencies and digital exchanges. Who is pushing it? None other than California's Senator Dianne Feinstein, who maintains that the bill is needed to update existing money laundering laws because of terrorists.
This means that the miners of Bitcoin will become a 'bank,' .. .
.. They can shut down Bitcoin in the blink of an eye by simply defining anyone who is a miner to be a financial institution.
The bill will change the definition of "financial institution" in Section 53412 (a) of Title 31 , United States Code. The text will read:
"An exhibitor, a redeemer or a cashier of prepaid access devices, digital currency or a digital exchanger or a digital currency."
The regulation will remove the anonymity of Bitcoin and other cryptocurrencies defeating this idea that there is an alternative-financial-universe separate from government."
Disclaimer: The views or opinions expressed in this blog post may or may not be representative of the views or opinions of the Financial Repression Authority.