BitGold Information and Contact Page
---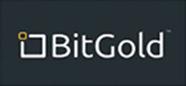 BitGold – Allocated Gold-Backed Currency
BitGold is setup as allocated gold – Every gram of gold in the account is your property: fully reserved, allocated, and redeemable under Bailment Law in Canada .. the gold is owned outright by the BitGold account holder and it is stored at Brinks (insured also).
Physical Gold can be redeemed anytime via 10g cubes or 1kg bars or a combination thereof.
You can redeem gold value back to your bank account, credit card, Bitcoin, INTERAC, or SEPA.
You can get cash via BitGold ATM, Bank Wire Transfer, Mastercard, VISA, China UnionPay, INTERAC, SEPA, and Bitcoin.
No storage costs for your gold. Free storage at private vaults secured by Brinks in Toronto, New York, London, Zurich, Hong Kong, and Singapore among others.
All gold is fully insured by Lloyds of London.
BitGold is of course gold-backed currency and it is fully in compliance with all national and international regulations like any other currency globally.
Reference "FRA/Gordon T Long" for any applicable discounts. www.bitgold.com