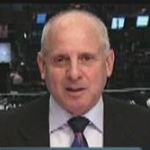 from Yra Harris: "I ask my readers to contribute to a fund affiliated with the 50-year work of my friend Mike Sturch, which feeds the hungry and clothes the naked and every penny goes where intended. My wife and I have written a check, sent today to the following address:
Marillac Saint Vincent Family Services
c/o Peter Beale-DelVecchio
6340 N. Magnolia Ave  #1 S
Chicago, IL 60660
Peter told me that the demands on their resources are growing exponentially as they are seeing a rise of people that never came for help. I hope that those who have benefited from NOTES FROM UNDERGROUND will be generous as the needs of the community increase everyday.
Paul Tudor Jones expressed the same sentiments today so I ask great support from this wonderful community.Please put my name as a way to track our community's efforts to deal with the pain and suffering from Covid-19. Many thanks."
Disclaimer: The views or opinions expressed in this blog post may or may not be representative of the views or opinions of the Financial Repression Authority.